Established in 2004, 2 Hot Marketing specialises in all kinds of marketing, from creating campaigns to delivering them.
Services include brand strategy, brand design, graphic design, telemarketing, digital marketing, direct marketing, web design and development, email marketing, social media management, and database management, including CRM consultancy.
We can handle most tasks in-house but we also have a huge network of talented people we work with.
The team takes pride in knowing our clients' needs well. So, before any project starts we carry out in-depth research into your company, product, services, and, of course, the competition. Knowing you 100%, we can come up with a watertight strategy and project description.
"During the entire project, the team at 2 Hot Marketing was there to hold our hands.
We ended up with an amazingly creative solution that our customers and ourselves value highly"
Creative Director
Karen is the Designer Boss Lady and founder of 2 Hot Marketing. Specialising in branding, she has a creative vision like no one else. From the bigger picture to a tiny pixel, she excels. She turns her clients into Flamingoes in a flock of Pigeons.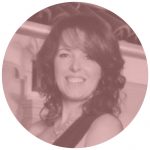 Jane
Digital Marketer
Jane knows a thing or two about online campaigns. She has studied user interaction for a decade and always knows how to tackle any given challenge. When not working with interface design, she rides scooters.
Sales & Marketing Software
Simon is THE go-to for all things email marketing. As the  founder and CEO of Popcorn, a really easy to use Sales & Marketing platform that tells when your customers are ready to buy and why...  What he can't tell you about staying in touch with your clients isn't worth knowing. His email marketing workshops are the stuff of legends! And on top of that he has an unhealthy obsession with Star Wars Lego.
Stuart
Brand Strategist
Stuart likes to get under the skin of your marketing. Hopelessly uncoordinated, the Salsa classes he's doing are interesting to watch and outright dangerous for nearby feet. He loves to help with brand strategy and unearth the 'burning need customers' of a business. In his spare time, Stuart is co-founder of Remedy Roots, the herbal wellness tea brand.
Richard
Website Builder
Richard loves to build websites with WordPress. We'd say he was slightly obsessed. He can often be found talking to himself while solving various web based challenges. Give him a challenge, go on!